As a player the great Mickey Mantle's accomplishments on the baseball field are many; and that got him a first ballot vote into the Hall of Fame. Mantle did so much and meant so much to so many fans as a player he is still discussed over 40 years after his retirement. Although his great career is the obvious reason why Mickey Mantle autographed baseballs are worth what they are, there are actually more reasons why there's still more demand than supply.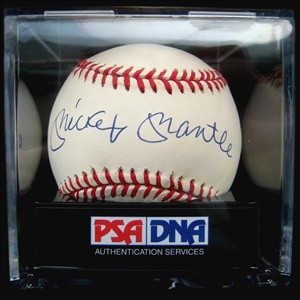 Mantle was one of the first baseball players who signed for pay at baseball card shows. He was an immensely popular guest, especially on the east coast where the kids who had grown up watching him play, got a chance to reconnect when Mantle first began appearing in the early 1980s. Mantle also had a contract with Upper Deck in which he had to sign a good amount of memorabilia.
Ever since those days, Mantle's autographs were worth more than any other players. Show promoters saw the incredible demand and Mantle raised his prices. He signed thousands of items, of course, but it didn't quench the thirst of baseball fans in general and New York Yankees collectors in particular. Many fans became sports collectors because of Mantle.
The demand for his autograph continued to rise and it has not really stopped even long after his death. Mantle was successful as a player on the field and charismatic enough off it to generate legions of fans even today. All those things put together made him a likeable person, and a baseball hero. Even if it was eventually discovered that Mantle was a flawed hero with a drinking problem and a nasty streak, it never really hurt his popularity.
If you want to obtain a Mickey Mantle autographed baseball, it's not difficult. Just be sure to purchase one that's been authenticated by a reputable source. If you have a Mantle baseball and want to get it authenticated, we'd suggest Professional Sports Authenticator
.