Have you ever wondered what it is that makes signed baseballs worth a certain amount of money? How one baseball can go from costing you $20 or even getting it for free, but end up costing hundreds or even thousands of dollars? If you have been a baseball collector or are a prospective collector, these questions will certainly come to your mind at one point or another. A lot of times people get autographed baseballs from "no-name" players and they never think that the ball will be worth anything. A lot of times people get autographs from "hot shot" players or prospects that are supposed to end up being in the hall of fame and they think these balls will be worth a lot of money in the future. The thing is, it is hard to really say what a ball will end up being worth in the future because, well, no one can predict the future.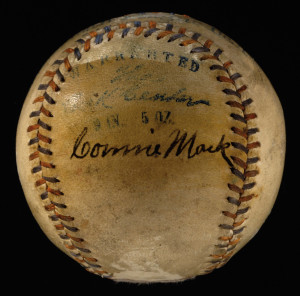 There can be a few factors that determine the value of a signed ball and those are usually the performance of the athlete. But, there are other factors that can be involved when it comes to these values and they can be easy to overlook. Sometimes beginning collectors overlook these factors and end up getting rid of baseballs that could end up being worth a lot of money in the future.
These factors include milestones of, either individual players, teams, ballparks, or even the MLB itself. Whether the ball is an official MLB ball and if it was the type of ball used during that player's time, has a lot to do with it. Believe it or not, there are people out there who sell fake MLB balls, so be on the look out for those. The condition of the ball, meaning the physical condition, has to be either good or original. Remember, just because the ball has scuffs does not mean that the ball is not worth anything, the scuffs could be from when the player hit the ball or something similar, making the ball actually worth more.
Additional factors include where the player signs the ball, the "sweet" spot of the ball is the best place to get a ball signed. Believe it or not, there are players who refuse to sign on the sweet spot, either for superstition reasons or because they have an exclusive autograph contract with a memorabilia company that won't let them sign there for anyone else.
With regard to vintage signed baseballs, whether a player lived a long time also factors in, especially with regard to Hall of Fame players. Those who lived a long time ago and died relatively young, like Christy Mathewson, are among the most valuable autographs in existence because there simply aren't that many out there, as one of our earlier posts proved.
Although these may not be the only factors that determine the value of an autographed baseballl, they are definitely some important ones that you should look out for if you plan to continue to collect.