Three of the most extensive and carefully curated collections of rare autographed baseballs in the hobby are going on the auction block this spring.
Heritage Auctions will sell the balls in individual lots.
The company calls the roster of Hall of Fame signers "the widest assortment of such signatures on baseballs ever offered in a single auction". It does read like a who's who of Cooperstown rarities: G.C. Alexander, Hack Wilson, Mel Ott, Chick Hafey, Chuck Klein, Heinie Manush, Ernie Lombardi, Clark Griffith, George Weiss and Sam Rice, among the many.
Some signed baseballs being offered are comparatively more common but provide something extra, as is the case with Roberto Clemente, who has written "Last Game at Forbes Field." Napoleon "Larry" Lajoie remarks "Greatest Thrill Home run with bases full."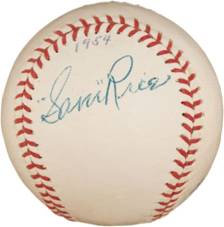 Autographed Babe Ruth baseballs, autographed Jimmie Foxx baseballs and autographed Ty Cobb baseballs are also in the auction, all of which are high grade and expected to fetch five figures or more.
"This is an auction that no autograph collector will be able ignore," said Chris Ivy, Director of Sports Collectibles at Heritage. "The rarity and condition throughout is astonishing. I think it's safe to say you'll never see another offering like it."
While the auction will likely draw well-heeled bidders, many bargain priced autographed baseballs from some of the above can be found on eBay. Just make sure you're buying ball that have been properly authenticated.