There is no shortage of bidders when rare or high grade single-signed baseballs hit the market. Even players who lived long lives are in demand by collectors. Case in point...a 1950-era Kid Nichols signed baseball which sold at auction April 22 for $53,775. Nichols, who played around the turn of the 20th century, simply isn't found alone on any autographed balls.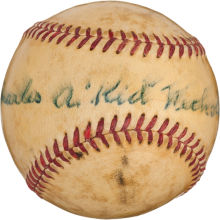 Heritage Auctions sold the Nichols ball and several others liquidated from a major collection. Among the other baseballs signed was an Eddie Collins single autograph ball that brought $22,705. A Nap Lajoie skyrocketed to $26,290.
Apparently we're not losing many collectors with deep pockets.
A circa-1947 Babe Ruth signed ball sold for $19,120, a price matched by a 1960 era Jimmie Foxx single-signed sphere. Collectors are willing to pay for quality judging by the selling prices of these. And if you happen to know where another Kid Nichols signed baseball might be, you've got a nice windfall waiting for you!