Getting an autographed baseball is hard enough and finding a way to store it is another problem. Once that Ken Griffey Jr. or Giancarlo Stanton ball arrives in the mail or is acquired in person, finding the perfect place to show it off in the man cave presents a challenge for collectors. Luckily, there a few excellent ways to display autographed baseballs that will protect them and enable you to show them off to friends and family.
First, decide how many baseballs you want to display and determine the amount of space you'll have.  The best way to display autographed baseballs is no different than any other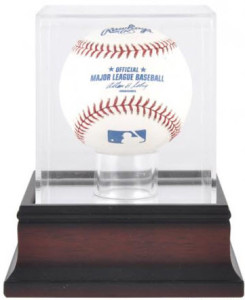 antique or collectible:   keep them out of direct sunlight.   Once you have a safe space, display options are many.  You can use a wall display, buy holders you can place on a shelf or if you have a large collection, buy cubes that can be stacked.  If you have a lot of them, a wall display or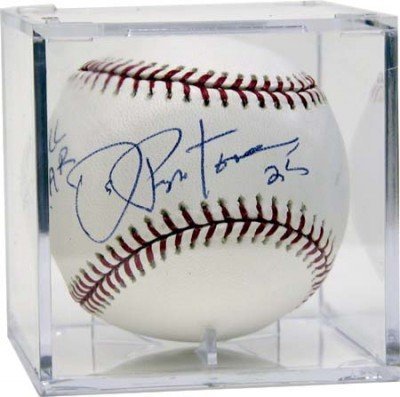 stacking cubes is the way to go.  If you have a small number of valuable balls (say those with a value of $100 or more), you'll probably want to buy nicer holders to showcase them (but it's not necessary).
Perhaps the simplest way to put a signed baseball is on display with the cheapest option out there. The Ultra Pro UV Baseball Cube is without a doubt the most practical way to keep signed balls safe, resistant to fading signatures while keeping the ball safe. For just $5 shipped on eBay for one, buying in bulk can help consumers save even more but even $5 is a steal for this case.
A couple of steps up from the simple plastic case, Mounted Memories offers a bit more style and protection with a thicker acrylic case and mahogany wood base. In this display, the ball itself sits comfortably on a stand that would also work well with a tennis ball or a puck. For a higher-end collection, this might just be the way to go since the case itself is affordable— at about $20.
Collectors who want to add a baseball card to their display  can do so with the BCW Acrylic Gold Glove Baseball And Card Display
, which is less than $20.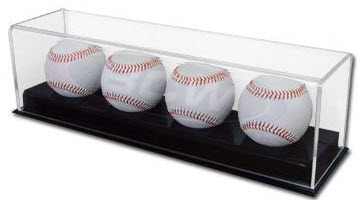 For those who have a vast collection and need to store a wide array of signed baseballs, using a shadow box might be a safe bet. Although it appears to be a high end option, it is relatively cheap compared to buying many individual cases. The hardwood finish and protection from UV makes it a highly appealing option for those who are willing to pay about $75 to get this setup on eBay. This is a good choice for someone who wants their collection to take up minimal space or  is collecting a specific team or award winners such as Rookie of the Year, Cy Young Award or MVP.  There are a few different sizes available.
If you have only a few balls and don't want to spend a lot of money, there are acrylic display cases
 that will hold 2-4 balls and protect them from dust and dirt for a reasonable cost.