A baseball signed by Babe Ruth and Lou Gehrig from a barnstorming tour to the west coast after the historic 1927 season was among the top sellers in Memory Lane's recent auction.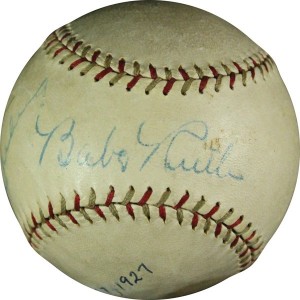 The "Bustin' Babes" and Larrupin' Lous were in Santa Barbara, California in the fall of 1927 when the ball was obtained by a local man who played on Gehrig's squad and it stayed in his possession until he died 20 years ago. The ball realized $25,462 including a 19% buyer's premium.
Darrell Beaver was the shortstop for the Larrupin' Lou's. In Mr. Beaver's possession until his death in 1991, the ball  was willed to the person who consigned it.
While showing its age, the signatures were still relatively bold and the ball presented cleanly.
Quality Ruth-Gehrig signed balls are highly sought after by collectors and with solid provenance, it was clear that a number of bidders wanted to add this one to their collection.
Also included with the baseball signed by Babe Ruth and Lou Gehrig were some photos from the day the ball was acquired showing Ruth and Gehrig with their fellow teammates. The signed baseball came with a full LOA from JSA and a PSA/DNA LOA.