He's still number one on the list of collectors and Babe Ruth autographed baseballs continue to climb in value. Sometimes, though, the larger than life image can overshadow why a player became great in the first place.   It's time to take a look at some Babe Ruth facts to learn a little more about the legend that sports fans and collectors simply can't get enough of.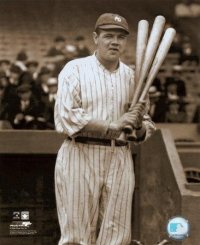 Ruth was a guy who routinely hit balls over 400 feet for home runs in an era where that simply didn't happen that often. His "called shot" during the 1932 World Series is still recognized as one of the longest hit balls in Wrigley Field. His drive in 1915 with the Boston Red Sox went 470 feet in St. Louis according to The Baseball Almanac. There were reports that Ruth hit some baseballs 600 feet during his fabled career. Perhaps that's a testimony to the kind of story-telling you get when a guy crushes the ball with so much force. With no real statistics being kept in that era, who could doubt how far Ruth was punishing baseballs during his time?
He still to this day is also one of the most successful players ever to make the transition from pitcher to full time hitter. People often forget the fact that Ruth was also an outstanding pitcher early in his career. He compiled a fabulous 94-46 record with an impressive 2.28 ERA.
What seemed to get overlooked by the media in his era was his world outside of baseball. It's since been well documented that Ruth liked to indulge in many departments away from his sports life. He was blunt when he spoke. He didn't miss out on many "fun" opportunities and he certainly had his share of "booze" and women.
In fact, his antics and lifestyle off the field often paint an interesting picture of a guy who lived life to the fullest.
What would you expect from a guy who said he was once chased off a baseball field by alligators at Huggins-Stengel Field in St. Petersburg, Florida? According to the story, Ruth was once playing right field at the old ball park-which just happened to be near a lake. When Ruth suddenly left his position, his manager asked what was going on. Ruth replied with, "I ain't going out there anymore. There's an alligator."
Much like baseball players today, Babe didn't start off making a killing financially in the big leagues. He had to establish himself as a great player before doors began to open. His initial contract with the Baltimore Orioles was for a reported $100 dollars a month. He'd eventually get sold to the Boston Red Sox where his salary increased because of his play on the field. Little did the Orioles know that they were giving away one of the most storied baseball players ever.
Ruth was only 19 when he started playing in the big leagues with the Boston Red Sox. By the time he was with the New York Yankees, Ruth made more money in 1930 than the President of the United States. When asked about the salary difference, Ruth famously responded, "I know, but I had a better year." These days many baseball players are raking in more bucks than U.S. Presidents. At the time Ruth did it, it was quite unexpected for an athlete to make that much money. That was only telling of just how much Ruth owned the game of baseball during his era.
His personal life outside of baseball was probably considered shaky at best. Did you know that Babe Ruth married a 17 year old cocktail waitress? The name of his first wife was Helen Woodford and the wedding was in October of 1914. A marriage to a 17 year old by a Major League Baseball player might just turns head in this baseball era of today. The marriage ultimately came to a close and the two parted ways before Ruth met his second wife. It's just one of many interesting facts about Ruth that don't often come up in general conversation when talking about the home run king.
Ruth might have indulged but he also liked to give back. It's been well documented that Babe enjoyed charitable giving. According to historians, he hardly ever turned down requests for an autograph or appearances at hospitals for sick kids. He handed out more cash than any other baseball player during his era-perhaps because he made more cash than every other player.
The fun facts about Ruth and his eating habits are also well chronicled. In fact, it's been said that Ruth once downed 12 hot dogs and drank 8 sodas in between a doubleheader. It was abundantly clear he liked to indulge at the plate and at the plate.
If Ruth wasn't eating food, he was creatively using it as part of his baseball arsenal. Ruth reportedly wore a cabbage leaf under his baseball cap to stay cool during the hot summer months.
In retrospect of his brilliant career, baseball historians are apt to talk about his incredible numbers relating to the game. One of the most profound facts looking back is that the Babe only won one Most Valuable Player award. It's hard to imagine that someone who is generally considered one of the greatest baseball players of all time only picked up one such award in 1923. During that season, Ruth batted an amazing .393 on his way to the coveted honor. In 1927 Ruth pounded out 60 home runs and 164 RBI but that was not considered to be good enough to claim MVP honors. He swatted an .849 slugging percentage in 1920. This is from a guy who originally was supposed to be a great pitcher.  Digging for Babe Ruth facts can be a great way to spend a day if you're a fan.  He was such an icon there is a voluminous amount of information out there even though his career began nearly 100 years ago.  To autograph collectors, he's still the Sultan of the Signature.