He died in 1958 at the age of 49 and well before the era when there was immense demand for Hall of Famer autographs after their playing days.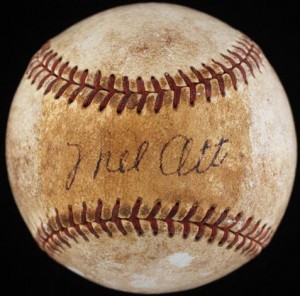 Mel Ott signed a lot of them over time, but not nearly enough to satisfy the current demand.  Mel Ott autographs are among the most sought after in the baseball memorabilia world and the results of Lelands December 2011 auction are proof of that.  A single-signed Mel Ott baseball sold for $25,849.65.
The auction also proves Ott was willing to not only sign autograph requests, but send them back to fans--even something that wouldn't fit in an envelope!  Included with the baseball is the return address portion of the parcel in which Ott sent this ball back to the fan who asked for it, as well as a letter of authenticity from James Spence Authentication.
The ball isn't marked, but was signed on the sweet spot in black ink, "Mel Ott".  A coat of shellac was applied long ago, which isn't always the best course of action, but in this case, the ball survived to an extent that was most attractive to the winning bidder.  The auction company graded it "very good".
In the same auction, a 1931 Lou Gehrig autographed baseball, purportedly from a game in 1931 in which he hit his 24th home run of the season (maybe this exact ball), sold for $21,400.  The official American League Baseball was signed on the side panel with steel-tip fountain pen by Gehrig. On the opposite panel is written, "New York 14, Red Sox 4, 37th Home Run, Scoring Babe Ruth, Sunday August 30, 1931." The game was played at Braves Field and Gehrig went 4-6 with four RBI. The ball was discovered in a New England estate sale many years ago and came with an LOA from a respected hobbyist who obtained it directly from the person who found it in the sale.
While Gehrig autographs are also extremely rare and desirable, a high-grade single-signed Ott ball is very desirable, more even than the team balls he signed as a member of the Giants. The good news is you can actually find other types of authentic Ott autographs for under $1,0000, making his autograph somewhat undervalued we think. Click here
to see them on eBay.